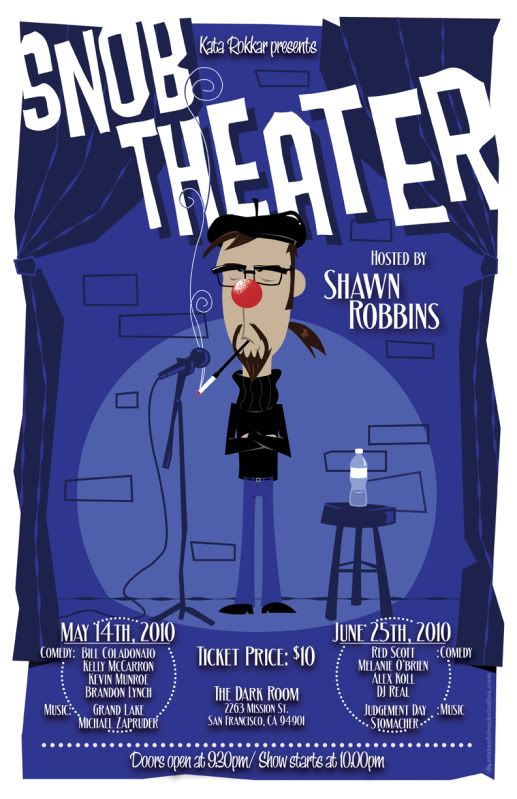 It's our third Snob Theater and what an awesome line-up of Bay Area bands and comedians we have for you this time around. In case you're not familiar with Snob Theater. Snob Theater is a show that features the best in the Bay Area's indie rock bands and stand-up comedians. The small 50+ seat Dark Room Theater makes for the most intimate of performances and provides a unique and exciting atmosphere. Snob Theater is an event that showcases the comfort of the performers as they take chances in a stripped-down setting.
Our musical guests this month include Stomacher and string metal giants Judgement Day.
Stomacher was recently voted Band of the Month on the Deli SF, opened for our Far show at Noise Pop, and has since given their last record away for FREE right here. They have since been working on new material as well as released an epic video for their song, Untitled/Dark Divider.
Judgement Day just got off their first headlining tour across the US and recently released their hauntingly immense second full length album, Peacocks / Pink Monsters. The band is known to perform with bands like dredg, Mates of States, and our own Botticellis. What they are more known for is their intense and entertaining live shows that showcase the true talent of the band. Consisting only of a violin, cello, and drums (drums will be substituted by buckets at Snob Theater) the band creates some unique music, the kind that needs to be experienced live.
Our stand-up comedians include Red Scott, Melanie O'Brien, Alex Koll, and DJ Real. Red Scott recently won First Place at the Rooster T. Feathers Comedy Competition, Alex Koll has performed at Montreal Just For Laughs Festival and Comedy Central's "Live At Gotham" as well a two-time winner of the San Francisco Regional Air Guitar Championship, and DJ Real has performed with the likes of Adam Green (the Moldy Peaches), Corn Mo (Polyphonic Spree), and Maria Bamford (Comedians of Comedy).
So come out, invite friends, and spread the word. It's going to be a good night.
________
BUY TICKETS HERE
Tickets are $10
________
$1 off drink tickets will be provided for anyone willing to visit the nearby bars.
________
Doors open at 9:30pm
Show starts at 10pm
________
The Dark Room
2263 Mission Street, between 18th and 19th
San Francisco, CA 94110
Call 415-401-7987 for info.
Facebook Event Page
Snob Theater Website
Audio clip: Adobe Flash Player (version 9 or above) is required to play this audio clip. Download the latest version here. You also need to have JavaScript enabled in your browser.
[mp3] Stomacher – Untitled/Dark Divider from Sentimental Education (2009)
Audio clip: Adobe Flash Player (version 9 or above) is required to play this audio clip. Download the latest version here. You also need to have JavaScript enabled in your browser.
[mp3] Judgement Day – Peacocks / Pink Monsters from Peacocks / Pink Monsters (2010)
Audio clip: Adobe Flash Player (version 9 or above) is required to play this audio clip. Download the latest version here. You also need to have JavaScript enabled in your browser.
[mp3] DJ Real – Who Keeps Using All My Shampoo? from Personal Growth (2009)